Vegan Kosher is the first certification of its kind in the world that combines veganism and kashrut. Vegan Kosher is characterized by reliability, reputation and respect – which have contributed to it becoming one of the leading certification agencies today in the international market.
This certification will confirm with a kosher stamp that your product is 100% vegan and kosher.
Why do you need a Vegan Kosher certificate?
Since these two markets, both the vegan one and the kosher one, are growing at a rapid pace in the global industrial market.
The global vegan industry is currently estimated at about $15.12 billion and is expected to soar to $20 billion by 2023. Forbes argues that "you should turn your business vegan". The Guardian calls it "the unstoppable rise of veganism". The BBC writes that veganism is increasingly "becoming a full-time fixture in people's lives". Veganism is the fastest growing food trend.
The global kosher food market is estimated at $27.3 billion and is expected to reach $54 billion by 2027. The formidable strength of the kosher market stems from the fact that at least 86 percent of kosher consumers are non-Jews.
The demand for a kosher-qualified product far exceeds the relatively tiny demographics of observant Jews. The demand in the kosher food market today has expanded to many groups that have a diet similar to that prescribed by Judaism. Kosher products today appeal to the Islamic world, large parts of the Christian world, vegans, vegetarians and other consumers who associate kosher with a higher level of cleanliness and purity.
The vegan consumer and the kosher consumer are both by nature discerning buyers. Most of them will not buy a product without a strict approval stamp. A new study by the UK Vegan Association has found that an overwhelming majority of buyers of vegan products actively sought a vegan verification logo when buying new products. For vegan food and drink, over 95% of respondents sought vegan verification.
A quality product is worthy of quality certification. Vegan Kosher is a stamp and seal of standards that reflect the degree of reliability of the product as vegan and kosher. A certified Vegan kosher logo on your products will ensure your entry into the global kosher market as well as the global vegan market, and will allow the product to enter official and unofficial indexes of the vegan or kosher food market. These two markets currently feed on large-scale inter-advertising networks.
Even if you hold one of the local certificates confirming the fact that your product is vegan, Vegan Kosher will introduce your product to the international market of kosher products. The increase in demand for kosher products all over the world is on the rise. In addition, products that have a kosher stamp on their vegan certificate have an especially high level of reliability.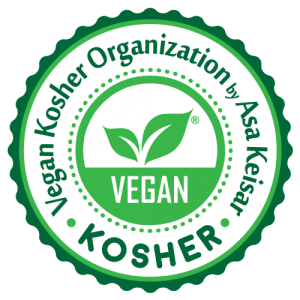 In order to receive Vegan Kosher certification for your products, please leave your details and a Vegan Kosher representative will contact you.
For any question or inquiry regarding Vegan Kosher, please feel free to write to us at
kosher@vegankosher.co.il